Keep Reading to Discover the Top MLM Companies

I hope your search for the top mlm companies is going well.
I know what it's like to spend endless hours surfing the internet trying to find the best mlm bang for my buck.
It's exhausting.
So, I decided to take a different angle on this post instead of listing out the top mlm companies in order, which you can simply find on this website.
I want to discuss what makes a particular mlm company the best.
So without further ado, let's dive into what distinguishes top mlm companies from the average ones.
6 Elements that Top MLM Companies Possess
When I evaluate MLM companies I look for four things:
Leadership
Value
Compensation Plan
Support
Community
Longevity
If the company is lacking big time in these categories than it sets off red flags.
Let's take a closer look at each one.
1. Leadership
I have to trust the founders and co-owners of the company.
…Are they leading from the front?
…Are they in the trenches with their community?
…Have they ever done anything shady?
Those are a few questions I ask myself.
The best leaders I have seen in this industry are constantly engaged with their followers, and they are 100% transparent about the good and the bad.
People respect candidness and honesty.
I've seen other company leaders that seem to disappear when shit hits the fan.
Leaders speak with action not with words.
It's impossible to hide behind a curtain in MLM these days. Social media and search engines expose everything.
I make sure to friend request or follow company leaders to see if they walk the walk.
2. Value
How much value does the company bring to the marketplace?
Remember, the marketer with the most value wins.
The world moves fast and the marketplace demands training, products, and systems that meet its needs.
Top mlm companies evolve quickly and stay modern. They have training and resources that cannot be found anywhere else.
The best mlm companies also create leaders because they provide exceptionally high-value products and training.
I live by the supremacy of speed. If the company doesn't have a do it now, do it now, do it now sense of urgency, I'm out.
3. Compensation Plan
The compensation plan must have two key components if it wants a closer look.
Residual income and high ticket offers.
I explained this in detail in my other post.
Residual income is recurring income month after month after month for the life of the member.
If Billy joins me in company x and I earn $50, then I want to be paid $50 every month for as long as Billy remains a member.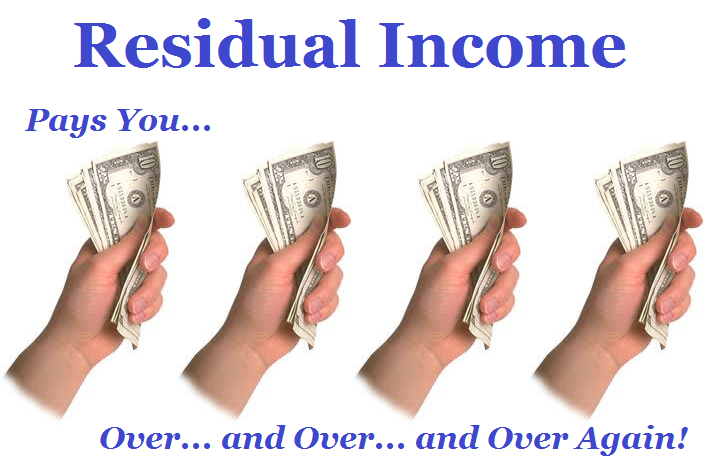 When you leverage a compensation plan like this, you can scale up faster and reach 6-figures.
The last thing I want to do is grind out 20 sales in January, then have to grind out the same 20 sales in February just to make the same amount of money.
Instead, sell 20 in January and build on top of that 20 in February.
The other component is high ticket offers.
Making 50 sales at 25 dollars a pop is a grind. That's not why we're here. We turned to internet and network marketing to escape the grind.
I would much rather make 5 sales at $1,000 a piece.
The top mlm companies have a mix of low, mid, and high ticket offers.
The low ticket offers encourage people to get started for cheap, and you can build a strong residual income if you build a big team.
The mid and high ticket offers let you pop off those bigger sales that can change your income drastically.
4. Support
If I have a technical or billing issue or any question in general, I want a customer support staff that acts with urgency and sincerity.
Great customer service is the foundation of any successful business.
If a company can't get this right then they are doomed.
5. Community
Always ask yourself, "Do I like the people who are in the community promoting this product/service with me?"
Surrounding yourself with like-minded individuals makes internet marketing so much more fun.
Would you join an organization that didn't align with your beliefs, passions, or interests? Hell no.
Same concept applies for picking a business opportunity.
We weren't meant to be alone in the world. We were meant to be with a tribe and creating success together.
6. Longevity
There is a noticeable pattern that most mlm companies go through. It starts off with explosive growth and ends with the company disappearing less than a year later.
This happens for a few reasons.
Sometimes the business outgrows the infrastructure and can no longer keep up with the expenses required to manage the back-end systems.
Other times the top affiliates of the company decide to move their entire teams to a competitor which is a massive blow to the original company.
This can be hard to predict and you have to trust in the owners of the company and the vision they have.
But some industries will always have mass appeal like direct sales.
So when you are choosing an mlm company make sure there is a good chance they will be around next year.
What's My Top MLM Company?
2.) MTTB, or My Top Tier Business.
Matt Lloyd's business has thrived for YEARS (longevity) and continues to grow at a rapid pace.
His model is based on selling top tier, high ticket products for $1,000, $3,000, and $5,000+ commissions.
High ticket commissions allows you to create a 6-figure income with only a handful of sales per month versus selling hundreds of low-ticket products ranging from $37-$100.
Whichever mlm company you decide to join, the best way to find leads and generate sales is to learn internet marketing.
That's what I did to get results when I first started, and I had no prior experience.
The great thing with MTTB is that they teach you how to generate traffic, leads, and they hop on the phone and close your leads for you and earn you $1k, $3k, and $5k commissions.
That's why I recommend MTTB to anyone who wants a mentor to help them through the entire process.
If you're tired of struggling online then partner with me inside MTTB, get your one 6-figure coach to mentor you PLUS my additional mentorship as a bonus.